ARTSmart classes are designed for preschool children ages three to five with a special section for toddlers and twos as well as homeschooled children. There is also an after-school program for children ages six and up. Each session includes a gallery tour and art activity. The format is based on Parents as Teachers and children must be accompanied by an adult. Registration and fees required.
Summer 2016 ARTSmart Programs for Children and Families
Spend the summer exploring sports and games and creating everything from your own game to team mascots! Inspiration will come from the exhibition "Art of the Game," in conjunction with the Manhattan Public Library summer reading theme "On Your Mark, Get Set, Read."
Day
Time
Age
Tuesday
10:30-11:30 a.m.

3:00-4:00 p.m.

Ages 3-5

All ages

Wednesday
10:30-11 a.m.

3:00-4:00 p.m.

Toddlers and twos

All ages

Thursday
10:30-11:30 a.m.

3-4 p.m.

All ages

Ages 6+
Dates and Topics
June 7-9: Derby Race Cars
June 14-16: Mascot Masks
June 21-23: Board Games
June 28-30: Sporting Sculptures
July 5-7: Team Logo T-Shirts (please bring a white T-shirt)
July 12-14: Regatta Sail Boats
Cost is $3 per child; Friends of the Beach Museum of Art members $1.50. Call 785.532.7718 or e-mail klwalk@k-state.edu for reservations. Children must be accompanied by an adult. If you must cancel, we would appreciate a call.
---
The Young Artists Programs will take place in June with museum tours and art workshops taught by KSU and MHS fine arts and art education students. The class for younger children allow artists to explore a variety of media.  Classes for older children will focus on learning more about specific techniques. Registration and fees required.
Class Dates & Topics
June 6, 9:30-11:30 a.m.(ages 8 and up) Painting Landscapes (acrylics and watercolors)
June 6, 1:30-3:30 p.m. (ages 5-8) Media Exploration
June 13, 9:30-11:30 (ages 8 and up) Pastel Still Lifes (oil and chalk)
June 20, 9:30-11:30 (ages 8 and up)Abstract Printmaking (linoleum block and collographs)
June 27, 9:30-11:30 a.m. (ages 5-8) Media Exploration
June 27, 1:30-3:30 p.m. (ages 8 and up) Drawing Portraits (pencil, prismacolor, and charcoal)
One work by each artist per session will be chosen for matting and display. One T-Shirt per child included.
Young Artists Celebration and Reception
July 9, 10:30 a.m.–12 p.m.
View works created in the Young Artists. Refreshments will be served. Open to the public.
---
Special Recognition for Military Families: In conjunction with the Blue Star Museums program, all workshops are half-price for military families with a valid Military ID.
---
Beach Museum of Art Onsite Activities
ARTote
Enhance your museum visit with an ARTote available at the information desk. Topics are on line, shape, form, color, and texture and the tote bags contain books, games, gallery activities, and guide sheets to special works in the galleries.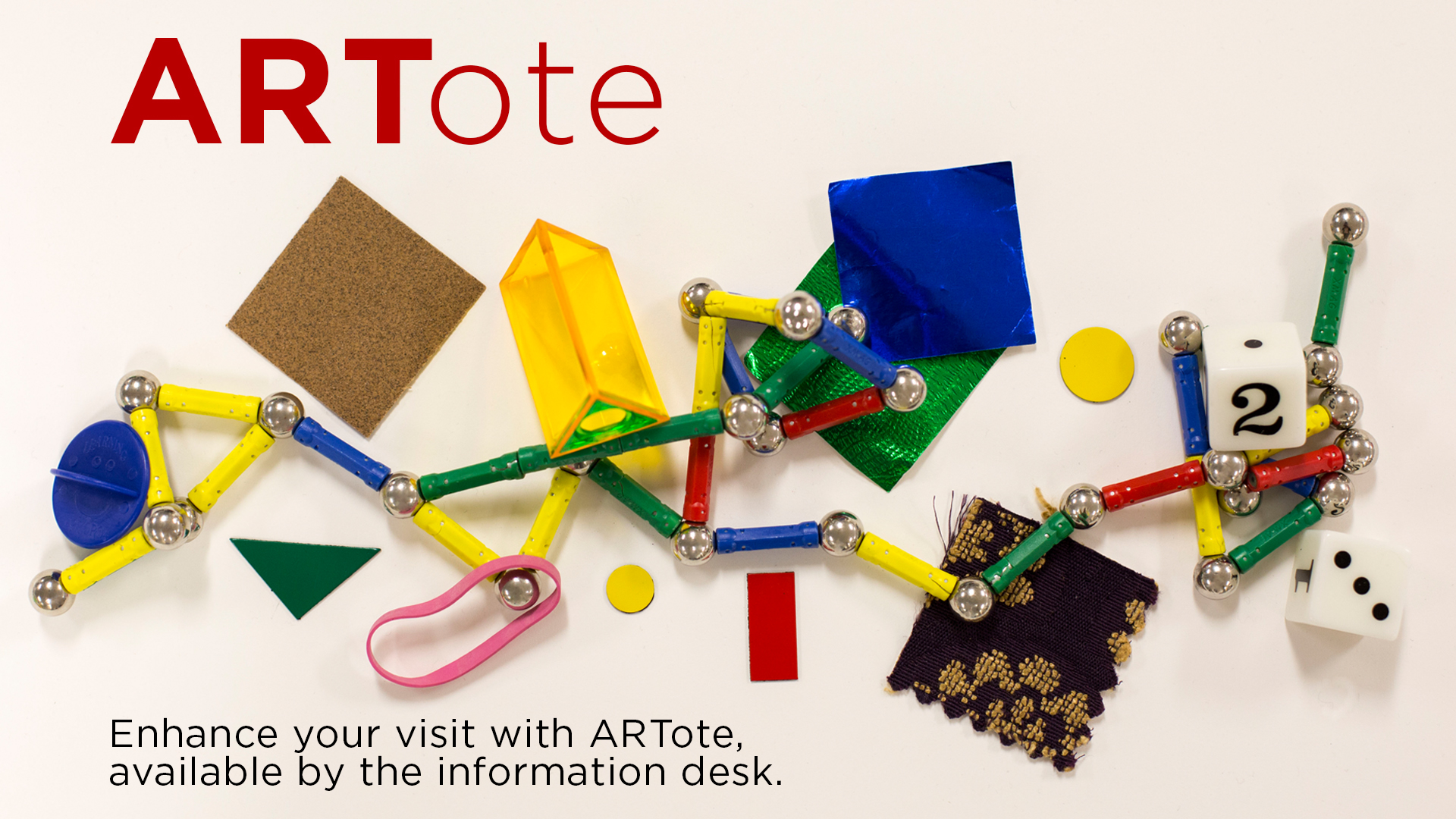 Exploration Station
This station contains a wide variety of activities and books related to each temporary exhibition and thus there is always new and topical information and activities. Check current exhibitions to see the present topic. Funded by the Smithsonian Community Grant Program of the MetLife Foundation.