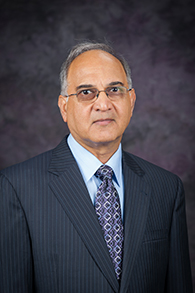 MANHATTAN — Kansas State University is honoring five professors as 2017 university distinguished professors, a lifetime title that is the highest honor the university bestows on its faculty members.  Congratulations to Dr. Anil Pahwa for his hard work and his dedication.
The following professors are receiving the distinction: Phillip Klebba, professor and head of biochemistry and molecular biophysics; Timothy Musch, professor of kinesiology and anatomy and physiology; Anil Pahwa, professor of electrical and computer engineering; Yan Soibelman, professor of mathematics; and Kun Yan Zhu, professor of entomology.
"Our five newest university distinguished professors truly display high-caliber leadership in teaching, research and service," said April Mason, university provost and senior vice president. "Their accomplishments are key in our goal to become a Top 50 public research university by 2025, and I want to congratulate them on their newest achievement in becoming university distinguished professors."
The distinguished professors are appointed following a universitywide nomination and evaluation process conducted by the provost. All five faculty members will receive a personalized plaque and medallion at the university's fall 2017 commencement ceremonies.
Continue reading "Anil Pahwa named one of the university distinguished professors 2017" →